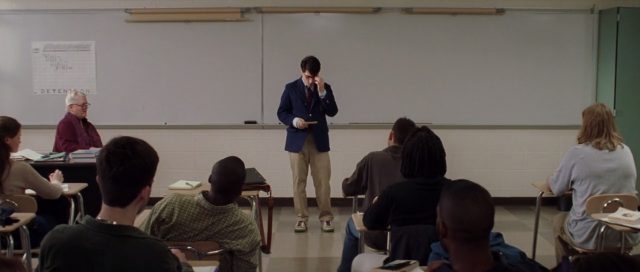 (/bəˈmjuːz/)
Verb
1. puzzled, confused or bewildered.
INT. GROVER CLEVELAND HIGH SCHOOL – DAY
Grover Cleveland is a public high school with two thousand five hundred students. Max sits in a front row of a math classroom. He is dressed in his Rushmore uniform, with coat and tie, but his clothes are wrinkled and his head has been shaved like a marine's. His eyes have dark circles around them. He has a little stack of index cards in his hand. The teacher, Mrs. Whitney, stands at the front of the room. She is about fifty with a horn-rimmed glasses and a slight English accent. She has a bemused expression on her face.
From the post: English vocabulary words from the movie script "Rushmore"
Source: Rushmore Script at IMSDb. (imsdb.com)